Senior Department News 5 May 2023
Beechwood in the Press!
We were delighted to see Aidan, Tommy and Josh's success in the Rotary Great Britain and Ireland Youth Speaks Competition featured in the Herts Advertiser this week. You can read the full article here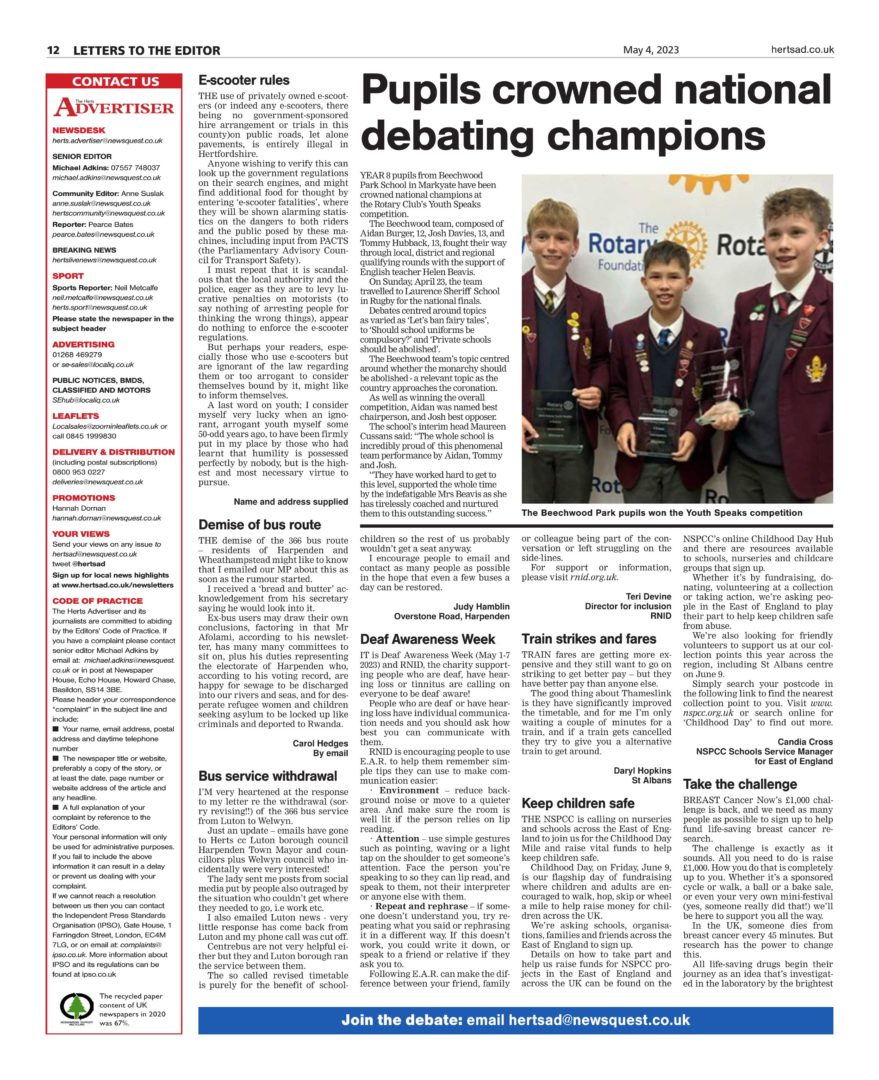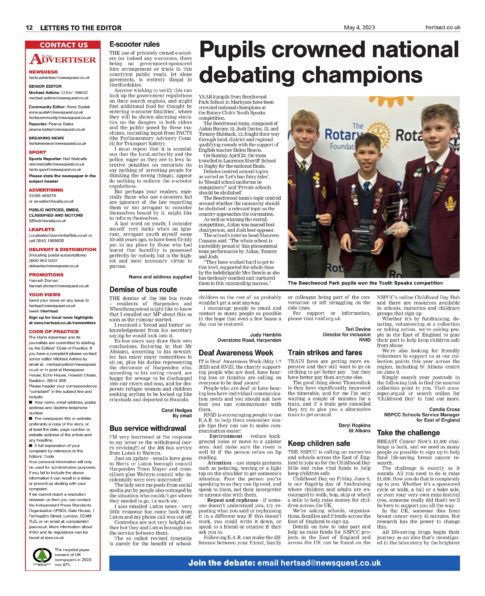 ---
News from the Maths Department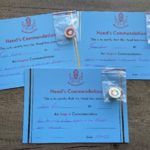 Primary Maths Challenge
We are thrilled to congratulate Alex R, James F and James G on their remarkable achievement in mathematics.
Their dedication and hard work has paid off, resulting in impressive scores and outstanding performances in the Primary Maths Challenge. We are so proud to see their passion for learning and problem-solving flourish.
Congratulations to our maths whizzes!
Mrs Groeneveld
Assistant Head of Mathematics
---
News from the History Department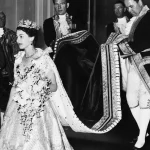 It has been a busy week in the History Department as we build up to the first Coronation ceremony of a British monarch since 1953.
Pupils in the Senior Department have all watched some of the footage from June 1953's Coronation of Elizabeth II and it will be interesting to look out for the similarities and differences in Charles III's Coronation this weekend.
The pupils have also been working on a joint English and History Department historical fiction writing competition based around the theme of a Coronation. We are running an internal competition and then plan to send some of our best pieces in to the Historical Association's 2023 Historical Fiction Writing Competition. You can read more about this competition here.
Mr Cook
Head of History
---
Senior Girls Netball Success
Last week, the Senior Girls' Netball Team travelled to St George's, Ascot for the IAPS Small Schools Netball Tournament – and what a day the girls had!
Fuelled by nerves and excitement, the first performance was focused and composed. With the first match off, it gave the team to scope out our first opposition, Pennthorpe. All the players made great starts, working hard and applying what we had been working on and adapting quickly on the court. Our first two games vs. Pennthorpe and Aldro were relatively straight forward wins, 9-3 and 7-2 respectively. The team kept consistency in their play and Charlotte and Ava were very composed in the shooting circle.
It was clear that the Ashfold team was going to be tough opposition, having had two very convincing first wins, and they brought a new level of physicality to the competition. We were 0-5 down at half time, but were connecting nicely and learning how to fight our corner. Incredible perseverance and "never say die" attitude led to just a 5-7 loss (winning the second half), what a comeback, some good lessons learnt.
We were able to take the foot off the pedal a little vs. St Georges' Windsor, winning 9-3. It was needed as we had a physical battle next vs. Barnardiston Hall. The high intensity of the tournament was starting to show, even though we were energised by plenty of Percy Pigs! The girls kept battling, and earnt a 5-5 draw, a great effort!
Kingshott were our last match, and it was clear how much the group had improved from when we had last played them. We won 8-3, through some hard work in the mid-court, important interceptions by Anna, Arisa and Olivia, and composed distribution into the shooting circle by Sevi and Eloise.
Finishing third in our group, we narrowly missed out in the Cup playoff, which was the cause of some disappointment, but the team re-focused quickly, realising a Plate medal was still up for grabs!
It was a tight match vs. West Hill Park, end to end and evenly matched. A quick chat at half time followed, and the team knew they needed to stay sharp in defence to keep the lead. Beechwood took their chances and managed to hold off for the game to win 5-4, meaning progression to the Final!
An incredible amount of hard work had gone into the tournament, and it was clear that the group were tiring, but they never gave up and kept pushing St Neots right to the final whistle. Although we lost that match, and the girls were understandably disappointed, it was clear they could not have given anymore and they should be incredibly proud of themselves, as the coaching team, and indeed the whole school is too!
The team showed great character, kindness, determination, composure and had fab team spirit throughout the day.
Well done to all who were part of the Netball season, the Year 6 boys for the practice match last week and congratulations to our U13 Netball Silver Medallists!
Mrs Briscoe
---
From the Classics Department
Latin Etymology Trip to Waitrose…… or The shelves are alive with the sound of Latin and Greek!
Top A visited Waitrose on Wednesday and discovered that there are many Latin and some Greek words which influence countless brand names. Which cracker is associated with the Latin word for "life"? What is the product associated with the colour of snow. os oris 3rd n. mouth – what is the name of the mouth gel associated with this word? Find a brand name for laundry liquid, which is made up of the Greek word oikoS (dwelling) and the Latin word ver (spring).
Josh D.said ' The trip was very interesting, seeing all of the Latin derived words. We then created our own Latin-inspired brand products – made even better by a cup of hot chocolate at Caffè Nero afterwards!'
---
From the Drama Department
7LD have started work on their mime project. We explored a range of emotions and added in the challenge of using a prop to convey our character's feelings.
Can you tell which emotions we explored?
---
Coronation Celebrations in the Senior Department
This morning our Senior Department threw themselves into making a bejewelled royal crown ahead of the King's Coronation tomorrow.
Cue the gems, sequins, pipe cleaners and our all time favourite craft essential, the Pritt stick!
---
Coronation Conundrum from Wycombe Abbey
Conundrum Quiz Questions If you are looking for some Coronation-themed fun this weekend, why not try your hand at the Wycombe Abbey Conundrum?
Conundrum is a place where you can test your Mathematics skills, learn from your mistakes and improve. Create an account to join a community of pupils who are looking to stretch themselves and to explore new challenges. New competitions will be added each term and by creating an account you will be kept up to date when new rounds are opened. If you wish to be considered for a prize please enter an email address for a teacher at your school.
Enjoy Conundrum, a Wycombe Abbey initiative.
Click here to access the Conundrum
---