Senior Department News
Top Form Orwell Youth Prize Workshop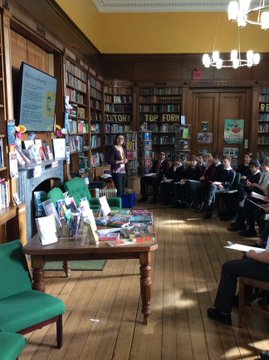 On Thursday 17 March, Top Form had the privilege of meeting with Tabby Hayward fro the Orwell Youth Prize.  Tabby visits schools to share details about the Orwell Youth Prize with  pupils in Years 8 to 13 – both how the prize works, and more about George Orwell and his life and works.
The Orwell Youth Prize is a writing prize for anyone in school years 8-13. Every year, it is based on a theme inspired by the writings of George Orwell, and the workshop this week was based on this theme – which this year is 'Coming Up For Air: Writing the Climate Crisis' –  and Tabby used it to get us thinking about the world around us and issues which matter today. Entries into the competition can be in any form, such as  poems, stories, essays, articles, scripts and even video game designs.
During workshop, we participated in a variety of writing tasks and had a thoroughly enjoyable time! Tabby asked us to imagine a place we knew really well and then imagine it in 2057, and imagine that we were coming back to it after a long time away, like the character in George Orwell's story "Coming Up for Air", and something had changed.  We then started a diary entry describing the day we went back and found the change – here is the start of Freddie's story:
35 years from now, huh, who would have thought. I walked through that old rickety doorway, picking at the plant as the rubble and dominating wildlife cowered below my shoes.  I wandered up the driveway and stood by the front door.  Mist formed on the window as my breath rose away back into the biting, sharp atmosphere….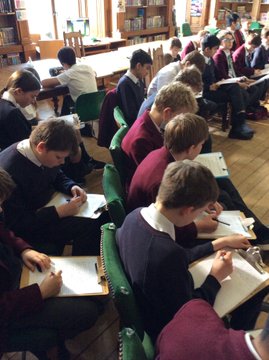 We then completed an exercise on headline writing, imagining we were a journalist in 2030.  We had to come up with a "good climate news" headline, which (luckily!) didn't have to be based on facts or research! Tabby explained how alliteration and rhyme could help to make our headlines better. As well as the headline, we wrote a 'lead' – a sentence summing up our story , which would capture the reader's interest and make them want to read on:  here is Logan's headline and lead:
Brilliant Bananas Bring Back Brachiosaurus – As of today, a brilliant machine powered by bananas has recalled the brachiosaurus to Earth in the hope that they help our climate.  It will also prove that we can increase the birth rate of endangered animals.
We all now feel inspired to enter the competition- here are some ideas we have had for our entries:
Tom's Game Design: Uncovering secrets of an illegal biotech company;
Jack's Story:  Plastic Pollution;
Jamie's Game Design:  Saving sea habitats by ridding oceans of plastic;
Freddie's Story:  Written from the perspective of an animal in its dying habitat.
During the course of the workshop, we also learnt some interesting facts about George Orwell and his Top Tips, namely:
George Orwell wasn't his real name (it was Eric Arthur Blair);
Never use a long word where a short one will do;
If it is possible to cut a word out, cut it out;
He didn't just write books, but was also a journalist who wrote lots of essays and articles;
He cared about the environment  and the importance of man's relationship with the natural world
You can find out more about the Orwell Youth Prize here.
Thank you to Mrs Wilkins and the English Department for organising such an inspiring workshop for us.
Logan and Jamie, Top Form
---
Public Speaking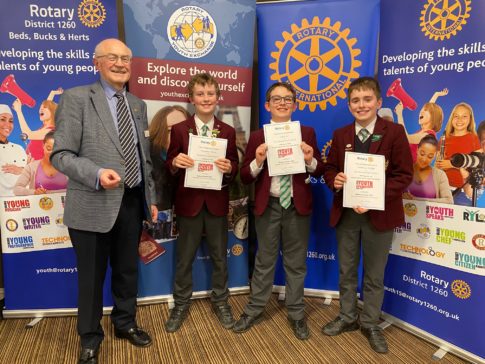 Congratulations to Ben, Kai, Logan and Matthew who between them across two rounds have debated their way to the Regional Finals of the Rotary Club "Youth Speaks" Competition, which will take place at Stamford School in April.
Debating the motion "This House believes that Christmas should be abolished", not only did the team win the round but this week  Ben, Matthew and Logan came away with individual awards for Best Proposer, Best Opposer and Best Chairman respectively too.
Good luck for the next round!
Mrs Beavis
---
History News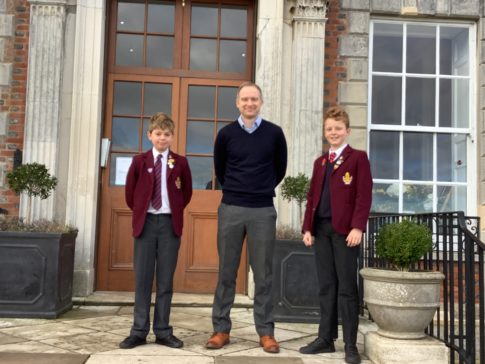 Congratulations to Louis (Top Form) and Harry (Year 7) for getting to the finals of the 2022
Townsend Warner History Competition
.
The Townsend Warner prize is 136 years old and consequently one of the oldest institutions of the prep school world, having been initiated by Harrow School in 1885.  Each year over 1,000 children from the UK and across the world take part in the competition. Previous winners include Kwasi Kwarteng, who won the prize in 1988. A Conservative MP since 2010, he was appointed in July 2019 as Minister of State for Business and Energy and a Privy Councillor. He has written Ghosts of Empire and A Five-Hundred-Year History of Empires.
This is a notoriously challenging competition, and the boys did incredibly well to get to the Finals.  Out of 1020 entrants, Louis finished 108th – an improvement of 96 places on last year., and scored an impressive 64 marks on Paper 2 which was only 7 marks behind the overall winner, showing how close it was at the top of the table. Harry, a year younger, finished in an impressive 204th place (the same as Louis last year).
Well done to both boys on this achievement.
Mr Cook
---
Top Form Collaborative Learning
Well done to Top Formers who worked collaboratively this week in their French classes.
In French all three sets worked together to improve their spoken French skills, guiding and supporting each other to make improvements and develop confidence.
Mrs Bliss was so delighted to see the positive impact this had on all pupils – on both those delivering  and receiving tips and advice – that this is something she will definitely be doing again!
---
From the Science Labs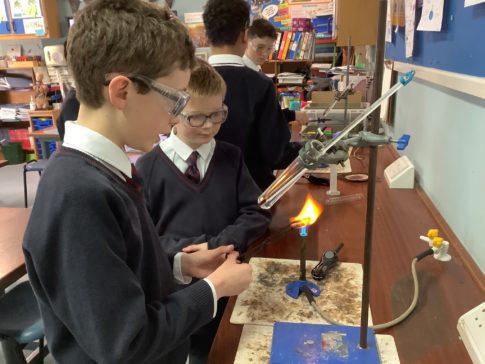 Senior pupils have thrown themselves into this week's British Science Week activities. During Monday's special Science Assembly, Top Formers went around the School helping younger pupils to carry out experiments.
In their own lessons they have been learning all about cells, discovering more about what makes up a cell. Learning was brought to life through playing a "Cell Drive" , a bit like a Beetle Drive – Year 6 pupils will be able to tell you more about this! Year 7 have been measuring the energy in food, and everyone has enjoyed observing our Science Lab visitors this week – the Beechwood Blue chickens, and Harriet the Tarantula!
Check out our Science Week photos here
---
From the Art Room
Year 7's John Piper project is really coming on! These are by Serena, Ava and Millie!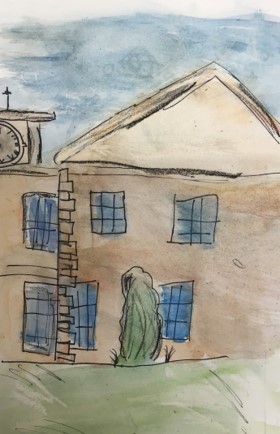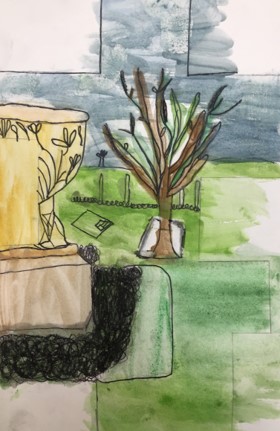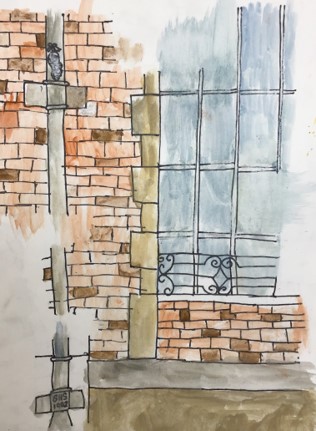 ---
Private Peaceful
Key dates for your diary:
Technical & Dress rehearsal 2 + photographs with Michael Carver: Saturday 19 March, 1000 -1600
Tomorrow (Saturday 19 March) we are running several full dress and technical rehearsals of Private Peaceful in order for the pupils to be fully confident with their roles.

Please arrive at 1000 and enter via the South courtyard. Collection is from the bus shelter at 1600. Pupils may arrive in their home clothes.
PLEASE NOTE: ALL PUPILS ARE EXPECTED TO ATTEND THE REHEARSAL FOR THE FULL DAY. 
Michael Carver will join us for the day to take action photos of the rehearsals, and to run a photo shoot with each pupil. 
 
Please bring:
·         A nut-free packed lunch
·         Lots of water (no fizzy drinks please)
·         A book to read
·         No devices
·         Hair up as for performances
·         No make-up required
·         Additional costumes eg- grey socks and school shoes (trainers won't look good in the photos!)
Please ask me if you have any questions: L.hegarty@beechwoodpark.herts.sch.uk
Other Dates
Dress rehearsal performance to Year 5 & 6 + Top Form non drama pupils: Monday 21 March, 1430 – 1600
Evening performances to parents:  Thursday & Friday 24 and 25 March, 1900 – 2030
Reminder: All of Year 7 are involved in the play but ONLY those who opted for Drama in Top Form.
Rehearsal Schedules
TICKETS FOR NON-CAST MEMBER FAMILIES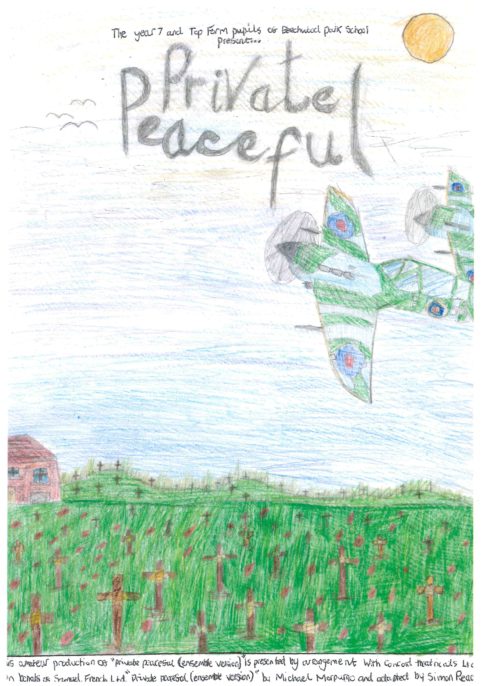 Now that cast parents have had to opportunity to reserve tickets for this year's Beechwood production of Private Peaceful, we would like to offer all parents the opportunity to reserve up to two tickets for one performance on either Thursday 24 or Friday 25 March. Year 7 and Top Form parents may also book an additional two tickets at this point, on a first-come, first-served basis.
There is no charge for tickets, but there will be charity collection buckets available at each performance, we will divide the proceeds equally between the Drama Department and this year's School charity 'Herts Welcomes Refugees'.
All pupils from Years 5 and 6 will watch a performance of the show on Monday 21 March. We feel that this production is a little too grown-up for the younger pupils. You may, therefore, wish to invite other family members along.
Tickets can be booked here
If you have any queries related to ticketing, please contact Gail Gamble via email  G.Gamble@beechwoodpark.com.
There will be a drinks reception in the courtyard, by the swimming pool, from 1800.  Please enter via the South Courtyard Gates. Doors open at 1835.
Mrs Hegarty,
Director of Dance and Drama
---