News from the Senior Department
Message from Mrs Wright
Pupils are already talking about Christmas, and even – can you believe it – Pi Day! We all have a favourite time of the year (Barvember, anyone?) but what about your favourite time of the week, or even day?
For me, this week, it was my Monday morning duty on the steps of the Main Entrance. I love greeting the pupils and welcoming them back and hearing about their weekend. It's also a great opportunity for parents to have a quick chat and fill me in on any news I need to know; or to ask me questions about the week ahead.
I also enjoy asking the Senior Department pupils at lunchtime how their day is going. It's a lovely opportunity to have a 'Family Lunch' together. I learn all sorts of things and they always make me smile.
There are so many benefits to eating and chatting together at school and at home:
For children, dinnertime conversation boosts vocabulary even more than being read aloud to
For adolescents, it is a powerful predictor of high academic achievement scores
Associated with more positive moods and positive view of the future
Associated with reduction of high-risk behaviours such as drugs and violence
Improved active listening skills
Enhanced logical reasoning
Stronger negotiating skills
Creative problem solving
I find asking the question "what was your favourite part of today" is enough to get the conversation flowing.
I hope you have all had a favourite time of the week to discuss at family mealtimes this weekend; and I look forward to seeing you all on Monday morning!
Marion Wright
Head of Senior Department
---
Theology, Philosophy and Religion
This term, Year Six pupils have been studying some of the first stories of Jesus.
For their holiday homework, they were challenged to be as creative as possible and produce a letter, diary entry, first-person account, or a newspaper article. There were some amazing efforts across the year and a couple of Head's Commendations were awarded for outstanding work. One of these was a short-animated Lego movie by Charlotte F; as you can see below, not only is Charlotte's video exceedingly good, but it shows great technical know-how and humour.  You can watch the video here

here.
Well done to everyone whose work is on display in the TPR Room – and to Charlotte too, of course.
---
Year 7 English – Mr Owen's Pocket Book
On Friday 11th November, Year 7 were treated to a performance of Mr. Owen's Pocketbook by Redheart Theatre company. The production was a one man show exploring Wilfred Owen's experience of war through his poetry and the poetry of his contemporaries.
An officer travels from Allied HQ to the Western Front, one week before Armistice, and discovers the pocket book of a young lieutenant killed that day. And so, we journey through the poetry of Wilfred Owen, Siegfried Sassoon, John McCrae, Jessie Pope and many others.
The show is written and directed by award-wining writer Justin Butcher and performed by experienced, professional actor, Rupert Mason.
It was an enriching, moving and memorable experience for the pupils in Year 7 who are currently studying the poetry of the First World War. Even more poignant was the fact that Mason performed the show on Armistice Day.
It was an enthralling performance, which brought the grittiness and rawness of World War 1 to life.
---
Maths
This week in Maths we have been enjoying the challenges and puzzles that have been set by the wonderful mathematicians at Maths Week England HQ. Maths Week England was set up 2019 with the goal of ensuring that no children miss out on the opportunities that being a confident competent mathematician can give them. In 2021 it became the largest national maths festival in the world!
This week we have puzzled over how long it takes a dog; cat; panda and chicken to cross a bridge (
https://vimeo.com/768254411
); taken part in the Times Table Rock Stars Competition (more to come on that…); and considered how many times you need to fold a piece of paper before it would reach the moon…
Why not watch this wonderful
video
from Ally M in 7LD on the 
Power of Two!
---
Science
Year 7 and Top Form have had a "hands on" Science week this week.  Top Form have been studying respiration, and in particular, how exercise impacts our breathing rate.
Meanwhile, Year 7 have been furthering their knowledge of density, studying and then putting into practice how we can measure the density of a range of different objects.
Have a look at some our these interactive lessons below:
---
Top Form Geography
In today's Geography lesson, Top B2 Geographers ventured out to the School forest to join in the tree planting in honour of HM The Queen's "Green Canopy" initiative. Here they are in action planting the saplings kindly donated by The Woodlands Trust:
Year 6 Art and Design
Year 6 have been working hard on their pottery this term and have a produced these wonderful coil pots:
---
Notices
For Top Form Parents from the Science Department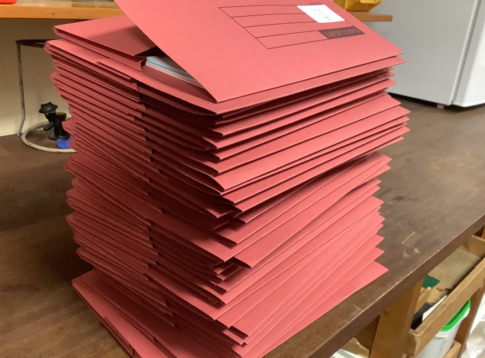 The Science Department will be sending home a revision package this weekend which was discussed during the recent Parents' Evening.
Please look out for it, and ask your child to have a look at it over the weekend and keep it safe.
Thank you
Ms Begley
Head of Science