The Benefits of a School Wellbeing Dog
Bruce, the Beechwood Wellbeing Dog, is a much-loved member of the School community, and when he is not visiting children around the School, can be found in the Art Room with Mrs Kelway-Bamber. So what are the benefits of a School Wellbeing Dog?
Wellbeing dogs in schools are a relatively new concept, but the benefits of having one are clear to see.  Research has shown that bringing a pet into the school can increase a sense of well-being and safety for students, which in turn can have a positive effect on their mental health. Students can relate to animals and they have a soothing presence within the school environment.  Pastoral care and mental health are such  important issues in schools and at Beechwood, issues that are right at our heart – this is demonstrated in our involvement with Dr Kathy Weston's Tooled Up Education, as well as in Bruce's presence around the School.
Pupils (and staff!)  love it when he is around; his presence and his gentle nature can assist children in feeling more relaxed, more confident, and less stressed and he  provides an ability to cope with challenging situations.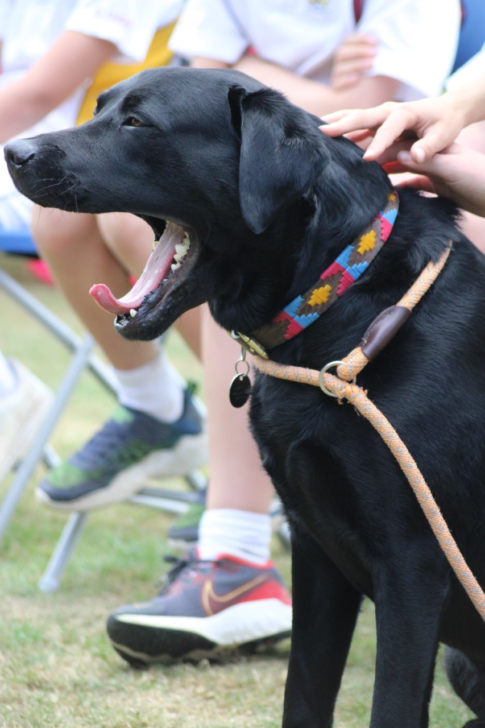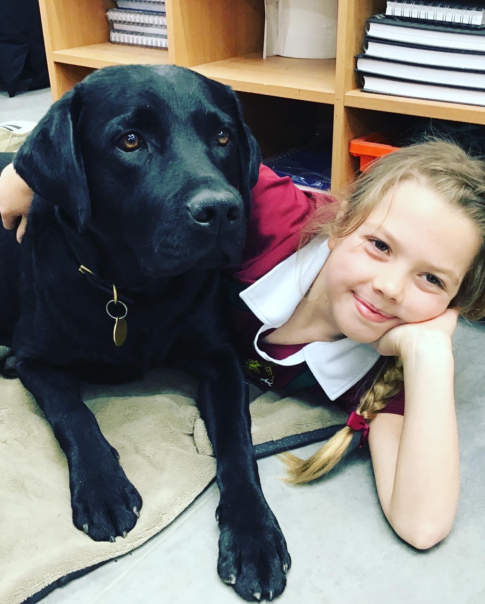 Mrs Kelway-Bamber lists his key skills as follows:
Expert Listener (has very much enjoyed being read to in the past);
Medical Assistant (has attended vaccinations for moral support);
Race official at sports day (though it as you can see, it was a bit tiring for him !);
Model (he has been drawn countless times, as evidenced by Tate Bruce in the art room);
Good at fetch (but not indoors!);
Bin investigator.
Bruce is available to visit lessons and form time – of course, he is incredibly well-behaved and loves being with the pupils. He is also, of course, always available to staff for cuddles too …
Find out more about School Wellbeing and Therapy Dogs here: https://www.schooltherapydog.com/