The Importance of School Trips
Why are school trips important? Well, how long do you have?! The benefits of school trips range from improving interpersonal communications to development of skills, to acquisition of knowledge but I think most importantly they build relationships. Relationships between peers, and relationships between staff and pupils. School trips are a great opportunity for children to face their fears, experience challenges and taste success outside of the classroom and also see their teachers be vulnerable. When a teacher stands beside a pupil, and freely admits to being nervous of climbing up 'Jacob's Ladder', the 'power balance' shifts between the pupil and member of staff. These shared experiences form bonds that will have an impact for the rest of their time at school.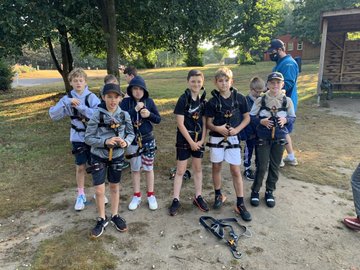 I spent some time with Year 7 the morning after their return from their team-building trip, and the excitement they exuded about the different activities they had completed, was infectious. One pupil told me he had learnt, "Teamwork is key in everything you do." What a worthwhile message to have discovered whilst on this residential experience. The boys talked to me about the "once in a lifetime opportunities" that they had experienced, how much they had "enjoyed spending time with their friends" (I think especially relevant now, after the year of isolation we have all faced) and the adrenaline rush they experienced having faced their fears jumping from a high platform reaching for a trapeze swing.
Our Beechwood Values lie at the heart of everything that we do and school trips are just one way we provide our pupils with the opportunity to live these values. To put the values into practise outside of school; learn what trust and resilience really mean, be courageous when faced with challenges, fail amongst friends and collaborate as a team moving forwards.
I am proud of the range of trips that Beechwood offer and hugely excited to form my own new relationships as I make memories alongside the pupils.
Ottilie Macpherson
Director of Co-Curricular