JUNIOR DEPARTMENT NEWS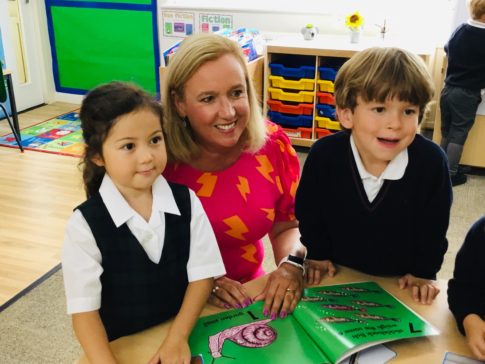 T.E.A.M.   – Together Everyone Achieves More 
This week has been all about teamwork. I am always in awe of the wonderful way that people pull together when the chips are down. As I am sure you can appreciate, an ISI inspection naturally makes people a little nervous, no one likes the thought of judgement, but the staff and children here have made the two days better by working together, smiling and showing the best of Beechwood and for that I am grateful.  
Last Friday we had the chance to celebrate a very important part of our Junior Department Team, our amazing TAs. It was National Teaching Assistant Day so I organised a proper Tea Party for them to say thank you. Teaching Assistants are the embodiment of multi-tasking. They simultaneously support the children with their work, mark books, put up displays, prepare resources, listen to teachers, cuddle upset children (and adults!), act as first aider and the list could go on. You can appreciate why they deserved to be spoilt with half an hour to sit down and have a cup of tea and some cake.  Take a look at our photos below.
Fortuitously the value of the fortnight is trust. Mr Bullock told the children in our Wednesday assembly that trust translates to being brave enough to do what you have been asked to do even when it is difficult. It can also mean believing that things will work out in the end. That seems like a comforting sentiment at the end of a week where we said goodbye to The Queen and where we wait to see if our 'special visitors' find our school to be as good as we know it is! 
---
Next Week: 
Parents' Consultation Evenings  
These will be face to face in the Junior Department classrooms on Tuesday and Thursday. The class teachers will let you know your appointment time by placing a sticker in your child's Reading Diary. Please make your way to the Junior Hall where there will be refreshments and I can direct you to the right classroom. 
---
September Birthday Party 
If your child has their birthday in September, they will shortly be receiving an invitation by post to a celebration with me during the school day on Friday 30th September.  
Best wishes
Mrs McIntosh