Middle Department News
This week in Year 3
History
Mr Hinton led Year 3 on a fascinating journey through London this week in History. We started in Roman Times, discovering how and why the Romans chose to settle there; we then moved through key dates in London's history, including The Great Fire of London, which obviously the children knew lots about from their studies in Year 2, up until the 2012 Olympics.  The children had great fun creating timelines.
Art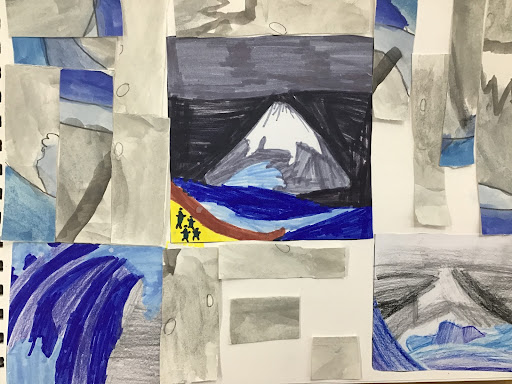 Year 3 have been looking at the works of Japanese artist, Hokusai, known for his woodblock printing, and pictures of Mt Fuji,
The have now come to the end of their projects, and the results really are fantastic – look how Idris has so creatively chopped up and re-stuck one of his paintings, to make a really interesting page in his book !  Well done!
Mrs Kelway-Bamber
Forest School
Today it was 3M's turn for Forest School and what a wonderful morning they had!
The children were learning how to tie knots and making mini ladders using sticks. Some of the ladders were impressively long, as you can see!  We then had fun guessing who (and what) in the woods might find these ladders useful – anything from bugs and birds to fairies and dragons!  The children the chose some areas around the woods, to leave them – we hope they will be of use to our forest friends!
Netball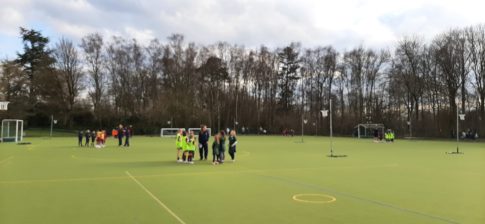 On Thursday, Year 3 girls took part in a netball triangular against teams from Edge Grove and Heath Mount.
The girls rotated around six different teams, and this week, in recognition of International Women's Day, the teams were named after inspiring women:
The Earharts (Amelia Earhart – female pilot)
The Pankhursts(Emmeline Pankhurst – helped get women the vote)
The Wrens(women code breakers)
The Williams(Venus and Serena Williams – tennis players)
The Austens (Jane Austen – author)
The Curies (Marie Curie – scientist)