Congratulations to the Beechwood Fencing Team who competed at the IAPS Fencing Championships at Millfield School on Saturday.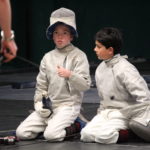 The Under 11 and Under 13 boys were in large pools, and demonstrated their sheer determination and stamina in a long day of fencing bouts.
Congratulations to all who, when it came to the quarter finals, took points off England and National Fencers.
All in their first IAPS Champs, Under 11 boys, Jonah H finishing 8th, Joseph S 12th and Jonas S (a year young!) 20th out of 25 fencers.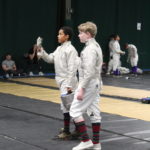 The Under 13 boys were fantastic, Will J being the veteran of the competition was an incredible support to all the other fencers in the team. A role model in his fencing too, composed and tactical, finishing an impressive 4th, narrowly missing out on a bronze medal, with the medallists all having previously competed in national and international vents.
Issac G, showed tenacity and perseverance, a year young in the competition, taking 5 points out of 10 off a current England Fencer to just miss out on the semi-final stage. Finishing 8th, he did himself and Beechwood proud!
The first time at the champs a year young, Matthew F fought until the very end, adapting tactically and a dogged attitude taking his final match to the wire. Finishing a very respectable 17th out of 21.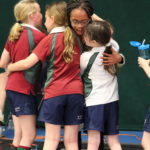 The Under 11 girls, were an army in the competition, warming up in the preliminary round and supporting each other throughout. In the knockout stages they had nerves of steel and gave it their all. Final results, Uju took the GOLD in a tense bout vs. Belmont Mill Hill Prep School. Josie D and Scarlett B took the bronze and Georgie H, Katherine T and Malin S-L finished 5th, 6th, and 7th respectively.
Congratulations to the whole Fencing team, you smashed it and we are all incredibly proud.
Thank you to the coaches and staff from Paul Davis Fencing Academy for their unending support and encouragement, and to the parents and staff who accompanied our fencers all the way to Millfield.
Have a look at more photos from the competition here: