What a fantastic week of sport is has been – well done to everyone who has represented Beechwood on the cross country course, on the netball court, on the rugby pitch and in the swimming pool this week.
Here are some of the week's highlights:
Cross Country at Bridgewater School and Westbrook Hay
Runners from Year 3 to 6 represented the School at the Bridgewater Cross Country Event on Saturday in Berkhamsted,
It was great to see so many pupils have the opportunity to compete, enjoy their running and cheer each other on too.  Team Beechwood had some great results and lots of runners won medals:
Individual:
Bronze: Zach (Year 6)
Silver: Amy C (Year 6), Evie R (Year 5), Will  (Year 5), George (Year 4)
Gold: Lilly (Year 4).
Team:
Bronze: Year 3 Boys, Year 4 Boys, Year 4 Girls.
Silver: Year 6 Boys.
Gold: Year 5 Boys and  Year 6 Girls.
Well done to all our runners.  On Monday, our runners were off again, this time bound for Westbrook Hay's Cross Country Meet.  This was the last race of the season, and many of our runners went out on a high – well done to them all, with special mentions to our medallists: 
---
ESSA Primary Team Championships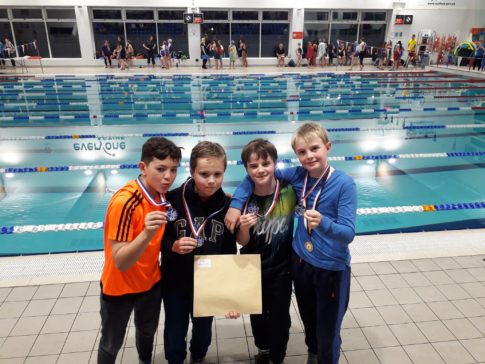 Congratulations to all our swimmers who represented the School at the ESSA Primary Team Championships at Woodside Leisure Centre, Watford, on Friday evening.
A big well done to the boys' team who finished second in both the Medley and Freestyle Relay races, which means that they qualify for the National Primary Team Championships at Ponds Forge International Sports Centre in Sheffield next term.
Well done to you all!
Mr Griffiths
---
Beechwood Under 11 7-a-side Rugby Festival – Match Report.
Last Friday we hosted the festival which saw 8 schools bring their Colts A rugby teams to play.
After a very successful season so far, Beechwood Colts A knew they were in with a chance of doing well. The day started badly though! With 4 minutes left in the first game, we were 2-0 down to Lockers Park but through hard work and perseverance, we scored 3 tries in those last 4 minutes to take the victory. Victories against York House and Kingshott followed which meant that we won our group.
We were drawn against St Columbus in the semi finals and played our best attacking rugby of the day coming away with a 3-0 win.
Westbrook Hay awaited us in the final. They had played superb rugby throughout the afternoon but Beechwood's outstanding defensive effort put us on the front foot during this game. The boys worked extremely hard and deserved their 3-2 win to take the title of Beechwood Rugby 7s Champions!
Well done to all of the squad on the day: Rory L, Otto C, Max F, Henley I, Ewan M, Hector G, Mattie J, Stanley L and Oscar B.
Special mention to Rory L who was awarded our player of the day.
Here are some photos from the afternoon:
Mr Dixon
---
Winning Wednesdays
Some notable wins this week included:
Netball U9 WON 47-31 against Edge Grove
Boys Rugby U11A WON Beechwood Rugby Festival
Girls Netball U11A WON 22-11 against Manor Lodge U11A
Girls Netball U10B WON 13-8 Orley Farm Netball Festival
Girls Netball U10C WON 6-1 Orley Farm Netball Festival
Girls Football U11C WON 3-0 against Manor Lodge U11C
Boys Rugby U11A WON 55-0 against York House U11A
Boys Rugby U11B WON 60-20 against York House U11B
Boys Rugby U10B WON 55-35 against York House U10B
Well done to everyone who took part.