What a fantastic week of sport is has been – well done to everyone who has represented Beechwood on the cross country course, the netball court and the rugby pitch this week.
Here are some of the week's highlights:
National Prep Schools Cross Country Championships @ Malvern College
Well done to all our runners who travelled to Malvern College last weekend to take part in the National Prep Schools Cross Country Championships Finals.
First up were the Under 11 Girls team, who ran their hearts out in a very competitive field.  There were 188 finishers, and Beechwood girls camp in 23rd out of the 46 teams who finished.  What a fantastic experience for the girls!
Next up were the U11 Boys, who again were competing in a very impressive field,  There were 187 finishers, and our boys should be incredibly proud of their 19th place out of the 46 teams who finished, with Zach coming 38th and Will 51st. Well done boys!
Finally, our U13 boys took off around a long and hilly course.  Congratulations to you all on competing so well after what had been a long wait for your race. The boys had been very supportive of the younger runners in their races, cheering them on as they waited for their own race.  Fantastic sportsmanship, boys!
Have a look at our runners in action below:
---
IAPS Basketball Finals @ Sevenoaks School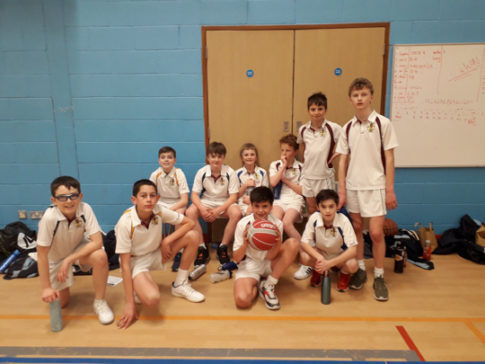 Well done to our Top Form pupils who represented the School fantastically last Saturday at the IAPS National Basketball Championships, held at Sevenoaks School.
The Top Form pupils have been attending regular training sessions during their break time and lunch times in order to prepare for the event and can be very proud of their performance, making fabulous progress throughout the tournament. The boys came up against teams who have played a lot more basketball than they have, but they thought on their feet, adapted their game when they needed to, and learnt a lot of new skills and tactics as they played.   We will build on this success next year, when we start up the Beechwood Basketball team.
Special mention to Adam Martin, who having competed at the Basketball in Kent on Saturday also then travelled to Malvern on Sunday for the Cross Country.  
Mr Griffiths
---
Beechwood Under 11 7-a-side Rugby Festival
Today, we were pleased to welcome Under 11 rugby players from Lockers Park, York House, Kingshott, Westbrook Hay, Lochinver House, Aldwickbury, and St Columba's for a 7-a-side tournament..  Playing in two pools, each team played the others in their pool, before teams fighting it out in the Cup and Plate Finals.
The weather wasn't kind to the players, with some wet and windy conditions, but that wasn't enough to dampen the spirits of the players, who all threw themselves into their matches with gusto!  Well done to all the players on some hard fought matches, and to the Beechwood team, who emerged victorious after a tough final match against Westbrook Hay.  Well done to the whole team, and also to Rory L, who was named Player of the Team.
Thank you to all the teams who came to play at Beechwood, to all the supporters who braved the less than ideal conditions and to our Catering Department for the refreshments.  Special thanks to Mr Griffiths for organising a fantastic afternoon of rugby with our friends (and friendly rivals!) from local schools.
Here are some photos from the afternoon:
---
Winning Wednesdays
Some notable wins this week included:
Girls Netball U10B WON 21-1 against Heath Mount U10B
Girls Netball U10C WON 8-4 against Heath Mount U10C
Boys Rugby U12A WON 50-15 against Aldwickbury U12A
Boys Rugby U11A WON 50-5 against Aldwickbury U11A
Girls Netball U9 Yellow WON 4-2 against Heath Mount
Girls Netball U9 Pink WON 18-10 against Edge Grove
Girls Netball U9 Pink WON 20-3 against Heath Mount
Girls Netball U9 Purple WON 11-2 against Edge Grove
Girls Netball U9 Blue WON 7-1 against Edge Grove
Girls Netball U9 Green WON 7-4 against Edge Grove
We are looking forward to another busy week of sport next week!