Message from Mrs McIntosh
'Do not judge me by my successes, judge me by how many times I fell and got back up again!'  
Nelson Mandela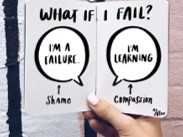 Failure! A word full of negative connotations. Something that most of us fear. The ultimate embarrassment BUT what if we thought of failure in a different way? 
This week in our Monday assembly I flipped things around and put the staff on the spot instead of the children. They hadn't been pre-warned or given a heads up. No, they were just asked to come and learn a new skill. I demonstrated the skill once and then told them to have a go and see how they did. The children were delighted to see their teachers in the spotlight. The adults perhaps a little less so!  
What the children saw though was a magic moment. The 'learners' (in this case the adults) looking perplexed, having to ask for help, getting it wrong, coping with disappointment, trying again, accepting that it wasn't right or perfect, witnessing different levels of success and/or failure.  
I then taught the children what the word FAIL actually means. 
First 
Attempt 
In 
Learning 
Failing isn't the final destination, it's just the first step on the journey.  
So why do our children need to learn to fail? 
Beth Arky, a writer for Child Mind Institute, says: 
'Teaching kids to fail and bounce back makes them stronger and more ready to face life's challenges. When kids fear failing, they're at risk for anxiety and meltdowns when things go wrong.' 
Then, how do we do this at school and at home? 
Recognise and acknowledge how they are feeling. 'I can see you are disappointed. I know you want to try and get better at that.'

 

Show them that we fail too and model how we deal with our mistakes and failures. 

 

Give them tools for what to do when things go wrong. This is when our Power Pets really help. Ask what would: Tough Tortoise, Sensible Squirrel, Wise Owl, Responsible Rabbit, Team Bee do in this situation? How would they react? 

 
We love the 'magic of mistakes' and the 'power of yet!' in the Junior Department. These videos often help us remember why they are important.  
Class Dojo's Growth Mindset Series – Episode 2 
Sesame Street: Janelle Monae – Power of Yet 
For adults that struggle with the idea of failing, I highly recommend the podcast 'How to fail' with Elizabeth Day. 
Have a wonderful weekend!
Mrs McIntosh 
---