Junior Department News 23 June 2023
Message from Mrs McIntosh
The best time to celebrate is whenever you can!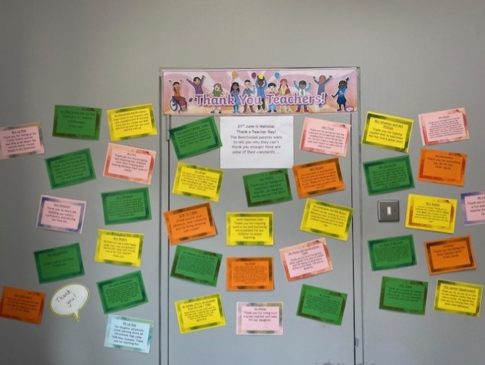 This week has been all about celebrating. On Wednesday we celebrated our amazing teachers on National Thank a Teacher day. I am so grateful to those of you that took the time to write in with your kind words of appreciation. The staff were so touched by what you had written. A culture of thanks is such a small thing and doesn't have to cost anything, but it makes the world of difference. I think it must be something to do with their COVID experience but nearly all of our Junior Department children are obsessed with rainbows so this poem seems apt. 
The Teacher's Rainbow 
Indigo is for your commitment and leading the way, 
Your kindness and encouragement is appreciated every day. 
Violet is for the wisdom you've learnt through the years, 
That has helped ease so many student's anxieties and fears. 
Blue is your patience that is needed each day, 
For the questions upon questions learning minds want to convey. 
Green is for growing in spirit and mind, 
And for challenging your students to take risks all the time. 
Yellow is for the joy of knowing your teaching hand, 
Has helped a child who is stuggling to understand. 
Orange is for being inspiring and creative every day, 
And ensuring that your lessons are fun in very way. 
Red is for the love of each child you get to know, 
For the way in which you support them and watch them grow.  
Then yesterday we celebrated the end of the year for our Reception children with their 'Rumble in the Jungle' performance and Prize Giving. The children, led brilliantly by their teachers, performed songs and poems aplenty but the highlight for us all was surely the monkey dance! It was truly amazing to watch our youngest pupils stand in front of the adoring audience and show us how far they have come this year. Each of them is unique and their little (and big!) personalities shone through. Each child was awarded a prize for one of the seven areas of learning from the Early Years curriculum and this made me proud because all of them have strengths that should be celebrated. It isn't possible to give a prize to everybody every year but it is right that as they complete their first full year at Beechwood Park we let them know how proud we all are of them. I look forward to seeing how they develop as they move through the school.  
HUGE thank you to the Sport's Department for a wonderful Junior Department Sport's Day last Friday as well. Everything was so well-organised and ran smoothly but most importantly of all the children enjoyed themselves and were active and engaged. A true celebration of their skills and learning in PE and Games this year. I am grateful to all our committed and talented Sports' teachers for all they do throughout the year. Thank you to you the parents for coming to support the children too, we hope you enjoyed the new format. 
Have a lovely weekend! 
Mrs McIntosh 
---