Woodlands News 19 May 2023
We are delighted to offer you yet another glimpse into the exciting and engaging world of fun and learning that is Woodlands. The teachers work hard and with dedication every week to provide a wide range of activities and experiences for your children, as this week's newsletter piece will evidence.
Before you read about that, can I please remind you to check the top post in Tapestry so that you have all the key dates in your diaries between now and the end of the year. Thank you.
Have you ever wondered why children love dinosaurs and vehicles and learning to say big numbers? One sometimes wonders if it is because they involve long words that are fun to say… velociraptor, stegosaurus, transporter, helicopter, three thousand and two… This week we have been building up our vocabulary related to size, but 'big' and 'little' would just not satisfy these hungry, little learning appetites!
So we have explored:
minuscule
minute
microscopic
gigantic
colossal
gargantuan
… and many more!
Keep feeding those enormous minds at home… how many more descriptions can you find together?
Puppets and storytelling have been our focus for this week and the children have been impressing us all with their amazing creativity. We were so lucky to get a visit from Andy the puppeteer and the children were truly engaged with the stories he told. He used puppets, song, mime and music to to retell the stories of The Three Little Pigs and The Three Bears. He inspired both the children and adults ahead of our puppet-themed week.
Take a look at our photos below:
The children also made their own BIG BAD paper bag puppets, when our big bad wolf decided not to be bad anymore. We had a wondrous selection of BIG BAD characters, including big bad spiders, ninja aliens, unicorns and Elsa's.
As our BIG BAD wolf puppet had decided not to eat pigs anymore, the children created him some new meals at Mr Wolf's Café. They used play-doh to make a huge selection of tasty treats and labeled them to add to the menu.
In French they made un loup or une louve puppet and loved creating scary wolf stoies. On Thursday, we wove in one of their current favourite themes; Mrs Trunchball and Matilda, through another puppet show.
They also created new adventures for our wolf with their own sliding puppet show. We have been really bowled over by their amazing imaginations this week.
Green Class have lived up to their 'Green' name this week and have been thinking about spring and growing. We went foraging for wild garlic in our woods. It was a delight to watch how very seriously they approached the task and used almost all their senses to identify the plants that they needed. They listened hard (and remembered) to the description of the starry white flowers and wide green leaves; they looked just as hard for a plant that matched the description; they touched and squeezed the smooth, fat, squashy leaves and they used their sense of smell to test how much like onions and garlic those leaves were.
The only sense we didn't use was taste (they had also listened hard to the health and safety briefing too and were quick to remind each other not to eat anything that they had picked without asking an adult and washing it first) but that was rectified the following day when we turned our haul into 'wild' garlic bread.
Astoundingly, not one wild arum nor bluebell leaf was picked! Well done, Green Class, you are fantastic foragers (and not bad chefs either)!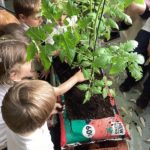 We have also turned our wide windowsill into a Woodlands greenhouse and used it to plant three tomato plants. We are watching them very carefully and they already have tiny flowers on their stems.
We learned all the different elements which a plant needs to make them grow and were surprised to discover that, as well as soil, water, sunshine and air, the flowers need bees or bugs to help them to share their pollen with other flowers. We are hoping that the bugs will do their work and that the flowers will turn into tomatoes before the end of term so that we can use our sense of taste again!
Alongside the tomato plants we also have our beans (which we have grown from small little purple things) and two squash plants.
I hope the weather is good for us all over the weekend and you are able to play with your children in the garden and fresh air.
A personal thank you to Ruth and Natalie who wrote a lot of this week's news.
Shirley Hayman
Head of Woodlands
---