Senior Department News
Townsend Warner History Prize 2022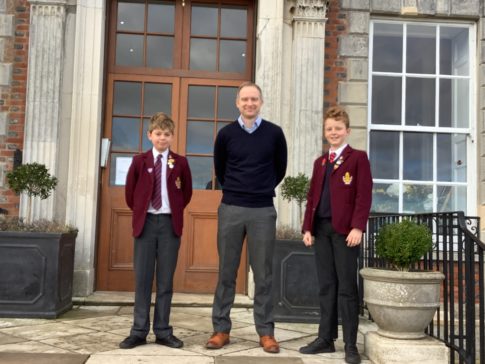 Well done to all those pupils in Years 7 and Top Form, who took part in this year's fiendishly difficult competition! Once again there were a huge number of entries – 1,020 across the UK and overseas.
Many congratulations to Louis S (Top Form) and Harry C (Yr 7), pictured here with Mr Cook on making it through to the final round after half term.
Good luck to you both!
Mr Cook
---
Uppingham School Prep Schools' Orchestral Day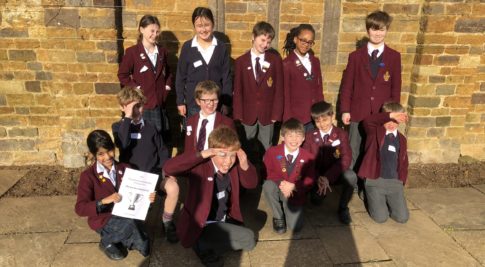 Some of our Year 6 musicians travelled to Uppingham with Mrs Lodge and Mr Harrington to take part in the Uppingham School Prep Schools' Orchestral day yesterday – read about it here.
---
Visit from Former Beechwood Pupil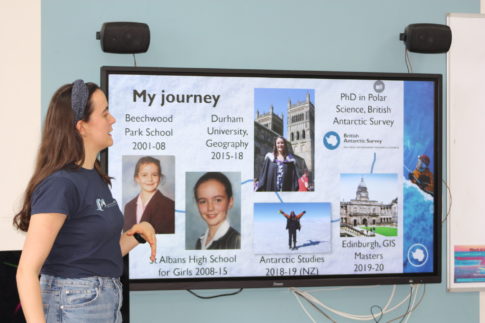 Thank you to Bryony Freer, former Beechwood pupil, who came to visit and spoke to Senior Department pupils about her career that has taken her to work in Antarctica as part of the British Antarctic Survey.
Bryony explained about the work she carried out there, including analysing ice samples, and about life in Antarctica – a fascinating afternoon for our budding geographers, who had lots of interesting questions to pose to Bryony.  They also got to try on some of her polar gear ….  Photos below!
---
Well done Year 6
Thank you to all our Year 6 pupils who were the most fantastic Tour Guides at today's Open Morning.  All our visitors commented on how polite, articulate and knowledgeable you were  – great job, everyone!
---
Private Peaceful
Key dates for your diary:

Technical & Dress rehearsal 1: Friday 4 March, 1400 – 1800
Technical & Dress rehearsal 2 + photographs with Michael Carver: Saturday 19 March, 1000 -1600
Dress rehearsal performance to Year 5 & 6 + Top Form non drama pupils: Monday 21 March, 1430 – 1600
Evening performances to parents:  Thursday & Friday 24 and 25 March, 1900 – 2030
Reminder: All of Year 7 are involved in the play but ONLY those who opted for Drama in Top Form.
The new after-school rehearsal schedule will be released after Half Term.
Mrs Hegarty