Senior Department News
On s'amuse
The wonderful, wonderful year 6 have worked for weeks to produce plays in French for 'On S'amuse'
Their generous parents searched high and low for costumes and props of such a diverse nature.
Was it worth it?
Yes, it was. The pupils produced entertainment of a quality that would have graced a West End Stage. They were funny, they were clear, they spoke in French. They did themselves and their teachers proud. And that is what we are – proud.  Bravo!
For those parents who couldn't come today, here are the plays for you to watch at your leisure and photos below, enjoy!
You can also see more photos from plays here
Merci!
Mlle Burton et Mme Bliss
---
From the Art Room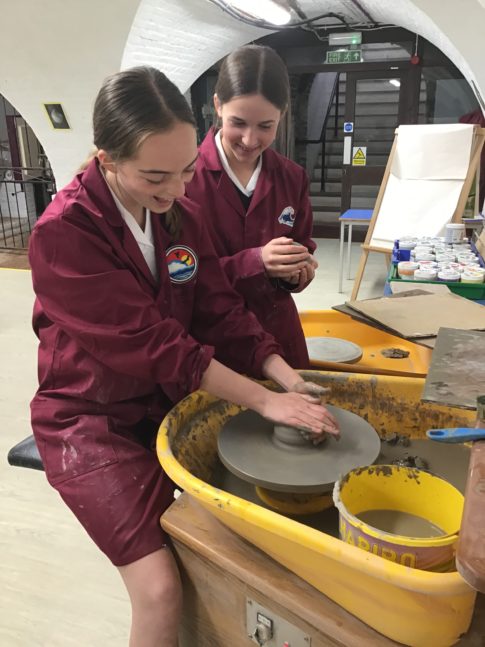 Here is a photo from the first 'throw like a pro' club session! This week it was Maggie and Maya from Top form who took part, pupils will rotate so that everybody gets an opportunity.
Pottery Class was very busy this week also creating Barbara Hepworth inspired sculptures too. You can view photos of the pupils masterpiece below:
---
Cricket This Term
A very warm welcome to the new cricket season!
It has been wonderful to see pupils enjoying the start of the season and the buzz it creates around the school. Fingers crossed for more sunshine on match days in the coming weeks!
This term, all pupils will experience the wonderful cricket facilities we have here at Beechwood and will enjoy fixtures against competing schools.
We base hardball participation from Year 5 upwards on health and safety principles alongside the children's confidence and enjoyment of the sport. It is our aim for all Colts teams to experience hardball cricket in the Summer Term to give them the experience to play in a safe environment and prepare for cricket in Year 7.
On match days, we may have different pupil numbers to our competitors which may impact whether your child plays hardball or softball. Even if a pupil isn't in a Wednesday hardball team, pupils have the opportunity to practice in training sessions and in the Beechwood Cricket After School Activity, should they wish to join.
Pupils do not need to have their own hardball kit; they can borrow the equipment from school. If your child does bring a cricket bag to school, please remind them to take their bag to the cricket pavilion each morning before registration.
In terms of teams, there will be movement over the term based on progress and performance and we carefully monitor team selection. Team numbers may also change depending on pupil numbers in other schools.  During training sessions, our coaches may spend time across different teams to increase learning opportunities available to pupils. Team selection can be an emotive issue providing feelings of elation as well as disappointment and we endeavour to communicate and explain to each child the reasons for movement from one team to another.
If your child is yet to join the after school cricket club on Mondays or Tuesdays and would like to join, there is availability; please contact Front Desk.
Here's looking forward to a fantastic cricket season for all pupils!
Mr Cooper
Head of Cricket
---
Equipment for Maths Assessments
Please may we ask that pupils remember the following equipment which they will need for their Maths assessments:
Calculator (Year 7 and 8 only), Protractor, Pencils, Ruler, Rubber, Compass
---
Summer Examination Timetable
Please click here to see the Summer 2022 School Exams Timetables