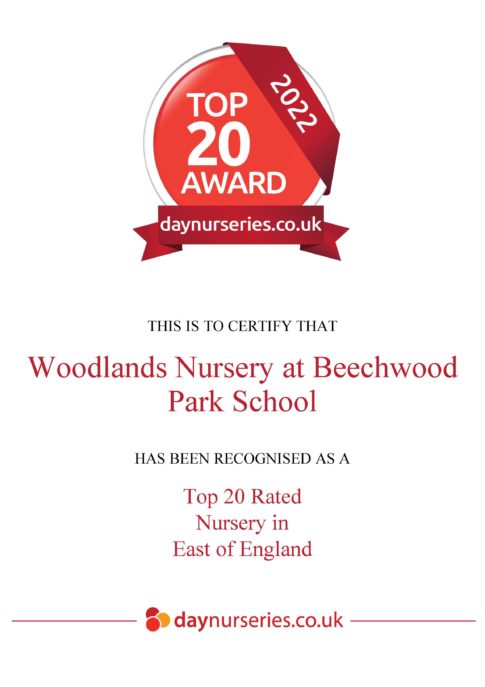 We are thrilled to announce that Woodlands has been named as a Top 20 Nursery in the East of England for the second year running.
Daynurseries.co.uk is a leading review site for nursery and daycare providers, which each year awards the nurseries graded most highly according to parent reviews.  Woodlands has received an unbeatable rating of 10/10 and is one of only five nurseries in Hertfordshire to have been named in the 2022 awards.
Head of Woodlands Nursery, Shirley Hayman said "We are thrilled to have been named in the Top 20 Nurseries in the East of England for the second year running, and to have the dedication, hard work, passion and commitment of our staff recognised by Daynurseries.  Thank you to all our parents who have taken the time to leave such glowing reviews about Woodlands, and for entrusting your children to us".
Head Ed Balfour added "The Woodlands team is thoroughly deserving of this award; every day they ensure that the youngest members of the Beechwood family have the best day by delivering a varied, creative and innovative curriculum coupled with unrivalled nurture and individual attention.  I could not be happier for Shirley and her team.  Thank you also to our Woodlands parents, who are endlessly supportive of what Shirley and her team do every day."
This award comes hot on the heels of Woodlands Nursery being "highly commended" in the "Most Creative Learning Through Play" category of the Muddy Stilettos School Awards.
Find out more about our award-winning Nursery here