Boys' Netball
Is netball "just" for girls?  At Beechwood, we definitely think EVERYONE should have the opportunity to get involved! 
Since October half term, Beechwood after school and and lunchtime netball clubs have attracted over 50 boys a week. This is an impressive figure and one definitely worth celebrating as a milestone in Beechwood's history! Men's and Mixed Netball has come on in leaps and bounds in the last year, taking the international stage by storm.  In only a year, men's and mixed teams have  started competing in Test Series and have started creating premier league teams to compete in Nationals.
Beechwood boys make history at Netball Nationals
Earlier this week, Miss Summerfield, Mrs Carley, Mrs Kington and Mr Robinson had the pleasure of taking four teams to the England Men's and Mixed Netball Youth Cup National Qualifiers in Leicester, where the teams were greeted with the most welcoming atmosphere.
There was a sense of magic in the air as all teams arrived, all with a pledge to take all that they can from such a special experience. Beechwood boys played some outstanding netball across the afternoon and were fantastic ambassadors for the School. 
We are hugely proud and excited to announce that the U12 A and B teams have qualified for the Youth Cup National Finals. The U12C had a nail-biting closing game to put themselves in a great position to also qualify. Additionally, the U13 A team had a very close opening game and move onto the second round of the qualifiers. 
The supportive environment was certainly conducive to some stand-out performances and improvements.  Given our players only have  30 minutes a week of training, their progression has been nothing short of phenomenal. The boys worked as superb team units and were willing to try out all positions and take onboard each coaching point. They played with flair and confidence, integrating their new skills and love of a brand new sport. It is brilliant to see these boys as role models, paving the way for Boys' Netball. 
Well done to you all, you should be incredibly proud of the path you are trail-blazing at Beechwood.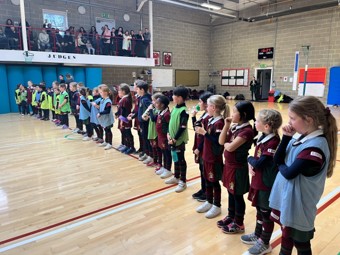 We also had a number of U8 and U9 pupils participate in Mixed Netball on Thursday. It was wonderful to see how they all integrated seamlessly in their common ground of netball.
Being their first netball fixtures of the term, Year 4 had an exciting quadrangular, involving 20 teams from three other schools. Participation was at its highest and they all had an enjoyable, netball-filled afternoon.
Everyone threw themselves into the fixtures with determination, and they all had an enjoyable, netball-filled afternoon. The mixed Year 3 teams also had a stormer at Stormont. They showed off their new skills and collaborated fantastically – a wonderful opportunity for them all.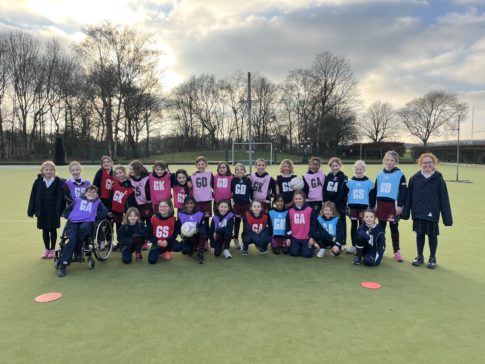 Our U10 and U11 girls' teams had some very close fixtures this week.
It has been fabulous to see their love for netball grow. Their enjoyment and hard work are paying off and all the teachers enjoyed watching their resilience and vigour in our toughest matches yet.
They found a new sense of energy this week and if they continue this way, I am sure they will continue to go from strength to strength.
Miss Summerfield
---
Equestrian Team are County Champions
The Beechwood Equestrian team competed in -7 degrees at Bury Farm last Sunday in the NSEA County Qualifier.
The 70cm team (Nicole I, Chloe I, Rory L & Guy G) won their class gaining the title of Herts County Champions 2023 and have qualified for the nationals at Hickstead in March.
Despite a huge team effort in the 80cm class, the team were unlucky to have two poles down. But, a clear round from Nicole won her the individual title of Herts County Champion and so she will go on to the NSEA Championships.  Also, a huge well done to Rory for qualifying for the Eventing Area Championships in February.
We welcome Olivia (Year 7) and Euan (Year 2), who will be competing in Dressage, to the Beechwood Equestrian Team. If YOUare interested in trying riding or joining the team please speak to Mrs Briscoe in the Sports Department.
Well done to all for the hard work and dedication through these frosty months! As always, thank you to Juliet Laing our Beechwood Park Team Manager for supporting all our riders and wonderful ponies!

---
Beechwood Cross Country Event
Thank you to everyone who helped make the Beechwood Park Cross-Country Event  a real success. Thank you to our pupil marshals and chaperones and to everyone who came out and supported.  In total we had 17 schools, 71 teams and 368 finishers – well done to ALL the runners.
We had some great performances,  especially those competing in their first inter-school race. Special mentions for our top 20 finishers go to:- Sam S (6th), Alex F (16th), Abbey W (16th), Will H (2nd – Silver), George M (5th), Alex A-D (8th), Wilbur B (15th), Filey S (19th) Lilly B (8th), Chloe (15th), Max D (4th), Stanley (8th), Ava (11th), Eloise (12th) & Anna (14th).  Big shout out to Will who medalled with silver in the U11 Boys' race.
In the team event, Beechwood achieved the following results:
U9 Boys –  As 4th, Bs 5th out 12 teams
U9 Girls – As 6th, Bs 10th out of 12 teams
U11 Boys – As 1st, Bs 6th, Cs 11th out of 13 teams plus 2 schools
U11 Girls – As 3rd, Bs 11th out of 14 teams
U13 Boys – As 3rd, Bs 9th out of 9 teams plus 2 schools
U13 Girls – As 3rd out of 5 teams plus 2 schools
Huge well done to our winning U11A boys' team who won their race! The team was Will H, George M, Alex A-D, Wilbur B, Finley S & Joe K.
Have a look at some photographs of the event here:

Good luck to runners competing in the Herts Schools' County Championships this weekend.
Miss Hamilton
---
Supporting the Cricket Kindness Project
As part of every overseas tour, we like to make an effort to support local charities. During our last school cricket trip abroad we noticed how unequipped some local children were during the tournament and this inspired us to collaborate with 
The Cricket Kindness project
For the past seven years, the Cricket Kindness Project (formerly known as the Children's Cricket Charity) has given thousands of young children, teenagers and adults across the world access to the correct equipment, enabling them to play the great game of cricket. This charity was inspired by a heartfelt determination to make the world a happier place for cricket-loving communities unable to access proper equipment and sports kits.So how can you help? If you have any unused cricket equipment at home, please bring it into school, hand it to Front Desk and we will make sure it is passed onto this amazing charity.  We also plan to take a selection of kit out with us to Barbados on the cricket tour and will donate it to donate to the local clubs and schools.
Thank you
Mr Griffiths
---
Super 6s Indoor Hockey Tournament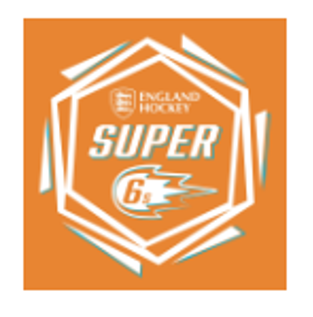 Tickets are on sale for the fast and exciting England Hockey Super 6s Indoor tournament, where the battle of the best in the country have the finals at the Copperbox stadium at the Queen Elizabeth Olympic Stadium. It's a really exciting format, so am hoping some families engage.
Please find information and tickets here
---
FIH Pro League Competition
FIH Pro League competition happening in the summer and tickets are on sale. GB Men and Women vs China, India, Belgium, Germany, Spain and the USA and held at the Queen Elizabeth Olympic Park too!
Tickets and the schedule can be found here
---
Girls' Cricket at Redbourn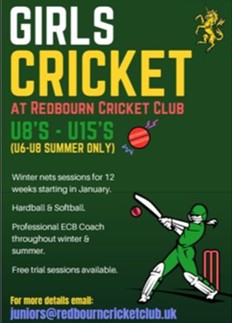 Redbourn Cricket Club Winter nets are now up and running, simply email juniors@redbourncricketclub.uk if your daughter is interested in attending.